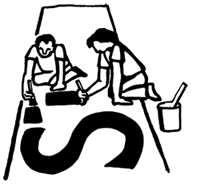 Please consider making a donation to guarantee that this website is able to continue providing Rini's powerful drawings to activists worldwide indefinitely.

This is particularly important now that the book with over 500 of her drawings is out of print. Her graphic images, widely used in flyers, cards, banners, newspapers and on T-shirts, inspire faith in the people and their struggles for justice.

Please make checks payable to the Rini Templeton Memorial Fund and mail to:

Elizabeth Martinez, Director
Rini Templeton Memorial Fund
3545 24th Street
San Francisco, CA 94110

For tax deductibility, please make checks payable to Agape Foundation, noting "for RTMF" on the memo line, and send to the above address.